Elevation to Basilica of the Sanctuary of Conflenti on October 21
The Church of Lamezia prepares to live a historical moment of great spiritual and ecclesial value. Next Sunday, October 21, as announced by Bishop Luigi Cantafora last August on the feast of Our Lady of the Oak, the Marian Diocesan Shrine of Conflenti will be elevated to the Pontifical minor Basilica. To preside over the ceremony, Cardinal Robert Sarah, prefect of the Congregation for Divine Worship and the Discipline of the sacraments.
The event next Sunday will be preceded by three days of pilgrimages of different diocesan realities to the shrine of Our Lady of the Oak. Thursday, October 18, the extraordinary ministers of the Eucharist of the diocese will participate in Eucharistic adoration at 17 and follow the Holy Mass; Friday 19 Pilgrimage of the catechists of the diocese who will receive the mandate for the new pastoral year by the bishop; Saturday 20 meeting of the groups of statuary and confraternities and at 17 the presentation of the Web platform "churches Lametine" with a focus on the artistic and spiritual treasures of Conflenti. Sunday 21 Ale 15.30 is expected to welcome the sanctuary of Cardinal Sarah and at 16 the Eucharistic Concelebration.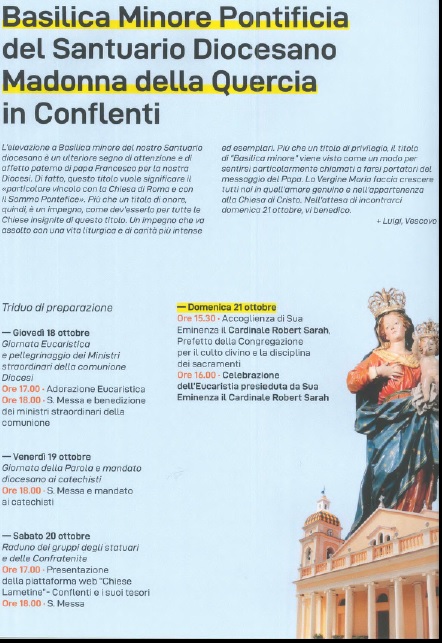 The title of "minor Basilica" is attributed by the Pope to churches and shrines "endowed with a special importance for liturgical and pastoral life", thus expressing a particular bond with the Church of Rome and the Supreme Pontiff.  The Diocese of Lamezia Terme has for the first time in its history a basilica and the sanctuary of Conflenti may boast the title of basilica for concession of Pope Francis. "All this-recalled Bishop Cantafora on the occasion of the announcement of the elevation of the Marian Shrine-is a great honor, but also a burden. It will mean assuring a religious service daily at the height of a Basilica and a commitment on the part of the community in an even more zealous cure.